Please take note of the following price list and the details of our services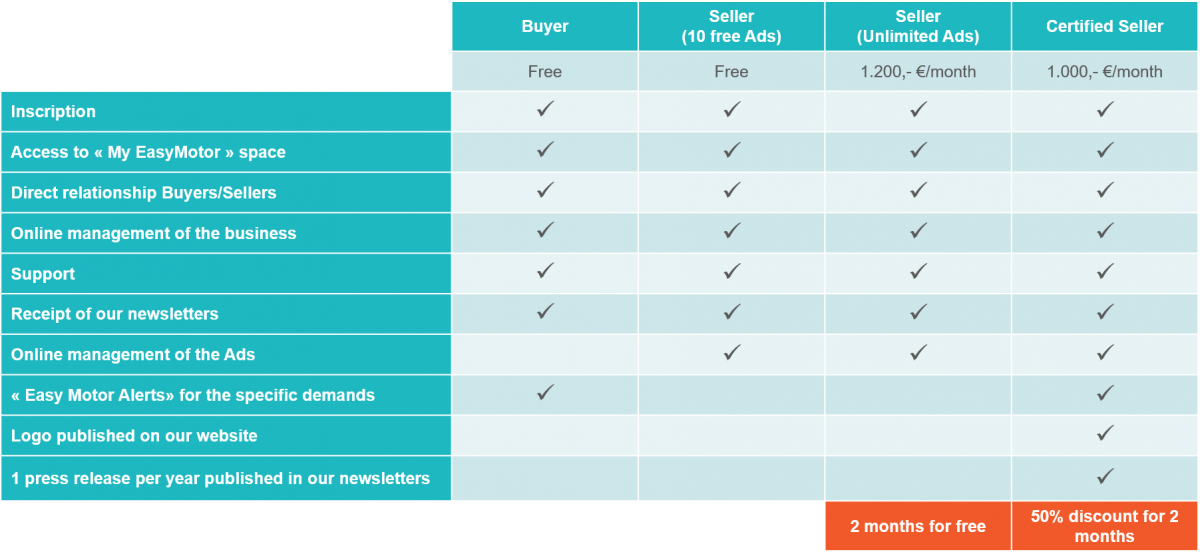 Registration
Create your account in a few minutes. Search for your key motor using our search engine or ask for a personal quote. Sell available motors easily.
Access to your "My Easy Motor"
Track your online activity in your personal space. You'll find your conversations, commercial exchanges, quote requests and all your online presence history.
Seller / Buyer Direct Relationship
Your "My Easy Motor" space offers a direct relationship with your business partner. A potential buyer or a seller contacts you ? You'll receive immediatly a notification by e-mail.
Manage online all sales & orders
Simply track your commercial activity from yor desktop, tablet or smartphone : a dashboard indicates all the different activities on your account (answering a quote request, placing an order or cancelling it).
Support
Question, need for a technical assistance ? All the Easy Motor team will give you comprehensive support by e-mail, phone or directly through he contact form (monday to friday, 9 am - 6 pm).
Newsletter subscription
Our newsletter was created to inform you of Easy Motor latest news and to amplify your bussiness opportunities (business intelligence, predictive maintenance, CMMS).
Manage your ads online
Your "My easy Motor gives you the opportunity to create, modify and delete your ads. Therefore, you can handle your stock of motors online and keep an eye on your potential sales. You have to revalidate twice a month your ads to be sure to display available motors.
"Easy Motor Alerts" : dedicated to specifical requests
You can create an "Easy Motor Alert" if you are looking for something specific non available on our marketplace. Fill a simple form and all our certified seller will receive your request in a few minutes. You have the guarantee to get a fast answer from a trusted seller.
Logo published on our website
Certified sellers benefit from an increased visibility in our community of professional (Europe, Middle-East, Africa). A page is dedicated to our certified sellers and displays their logo with a link to their website.
1 publication / year in our newsletter
Certified sellers also benefit from a publication in our newsletter released in both english and french to more than 1000 professionals ultra targeted. They can communicate on their know-how, their new products, and promote their brand through an editorial. We help them to write this edito in order to maximize return.